Caterers To The TV Commercials & Video Industry
Chefs on Location Menu
We have a wide selection of food available. You can either click through the options below or download the entire Chefs on Location menu as a pdf.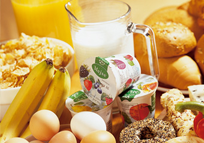 Breakfasts
Whether you're after a hearty Full English breakfast to kick off your morning or looking to get an early start on your 5 a day, Chefs on Location have the breakfast solution for you!
Breakfast Menu
Full English
(consisting of Free Range poached, scrambled or fried eggs, bacon, Organic sausage, Organic veggie sausage, mushrooms, baked beans, tomatoes, hash browns/bubble & squeak, black pudding and fried bread.)
Poached Smoked Haddock or Loch Fyne Kippers
Fresh Florida Fruit Salad & Organic Yoghurts
Fruit Compote, Cereals & Muesli
Warm Croissants & Danish Pastries

Organic Rolls, Breads, Bagels & English Muffins
(Toasted and served with jams, honey, peanut butter & Marmite.)
Fresh Fruit Smoothies
Variety of Teas, Cafetiere Coffees (Decaf choice also), fruit juices and mineral waters.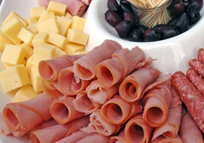 Cold Table
With everything from cold meat platters to cheese boards our cold table menu is bound to have something that tickles your taste buds
Cold Table
Cold Meat Platter
Fish Platter
Crudities & Dips
Cheese Board
Fresh Fruit Selection
Assorted Continental Breads
All of the above accompanied by a selection of the following salads -
Broad Bean & Pancetta
Salad Nicoise
Chick Pea & Coriander
Mixed Leaf Salad
Coleslaw
Greek Salad
Italian Tomato & Red Onion
Mushrooms a La Greque
Caesar Salad
Mozzarella, Tomato & Basil
Artichoke & Orange
Thai Clear Noodle & Lemon Grass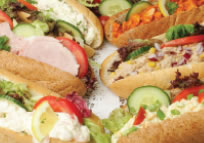 Afternoon Tea
No doubt your cast will be getting peckish as the afternoon draws in, our choice of delicious filled sandwiches, bagels, baguettes & wraps will get them on their feet again!
Afternoon Tea
Selection of Delicious Filled Sandwiches, Bagels, Baguettes & Wraps
Cheese on Toast & Sausage Rolls
Crumpets & Toasted Tea Cakes
Selection of Cakes & Pastries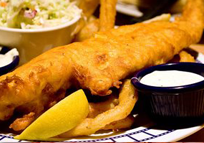 Lunch & Suppers
For those that love nothing more than to get their teeth into a warm home cooked meal, our lunches and suppers will leave your team fulfilled and ready to snap into action.
Lunch & Suppers
Thai Red Curry with Beef and Baby Aubergine
Veal Escalope With Creamy Wild Mushroom Jus
Roasted Aberdeen Angus Rib-Eye of Beef with Yorkshire Pudding and Creamed Horseraddish Sauce
Raviolli Parcels with a rich Italian Tomato Sauce
Pork Escalope with Wilting Spinach and Garlic
Honey and Wild Thyme Glazed Norfolk Gammon on Colcannon Cheesy Mash
Piri-Piri Chicken with Cajun Saffron Rice
Roasted Lamb in Garlic and Pancetta
Pan-Fried Rump of Lamb with a Rich Red Wine and Watercress Jus
Line-Caught Sea Bass on a Pesto and Pepper Oil Dressing
Seared Tuna Medallion on a Bed of Thai Noodles with Lime
Oven Roasted Scottish Wild Salmon Fillet on a Spring Vegetable Risotto with Parmesan Shavings
Beer Battered Haddock Loin with Home-Made Chunky Chips, Freshly Made Tartar and Lemon Sauce
Poached Cod Loin in Jersey Milk with an Old-Style Parsley Sauce au Gratine
Chargrilled Rainbow Trout with an Almond and Apricot Glaze
Poached Scottish Salmon fillet in a Lime and Pepper Oil
Spring Green Vegetable Risotto and Parmesan Shavings
Mixed Bean and Vegetable Ragout
Quattro Formagio and Rocket Risotto with Parmesan Shavings
Roasted Aubergine with a Roasted Tomato and Garlic and Herb Crust
Spicy Bean Piri-Piri on a Bed of Saffron Wild Rice
Wild Portabello Mushroom with a Permento Olive and Cheesy Stuffing
Roasted Vegetable with Lemon and Coriander Linguine with Parmesan Shavings
Sweet Potato with a Pesto Leek and Brie Topping
Chick Pea and Vegetable Thai Yellow Curry
and Hom Mali Rice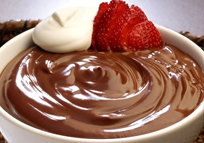 Puddings & Desserts
We have a fantastic range of puddings and desserts available for crew members with a sweet tooth. Don't be shy, get stuck in and treat yourself!
Puddings & Desserts
Some of our best!
Apple & Almond Crumble Torte
A Very Chocolaty Mousse
Old Fashioned Rice Pudding with Coconut
White Chocolate Torte
Raspberry Pavlova
Crème Caramel
Rhubarb Trifle
Luscious Lemon Torte
Chocolate Fudge Cake
Malt Loaf
Bread & Butter Pudding
Summer Fruit Pudding
Tropical Fresh Fruit Salad
All accompanied by cream or custard. Or ice cream when it's hot!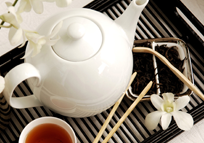 Drinks Cart
Being on set all day is thirsty work. We have a wide range of refreshing beverages available to help your crew stay on top. From fresh juices to organic teas and coffees - we've got the lot!
Drinks & Snacks Cart
Selection of Organic Teas and Coffees
Herbal Teas & Fruit Infusions
Green Tea
De-caffeinated Tea & Coffee
Still & Sparkling Mineral Water
Orange, Grapefruit, Pomegranate, Cranberry & Apple Juice
Cans of Coke, Sprite, Fanta & Diet Coke,

Biscuits & Fresh Fruit provided throughout the day.